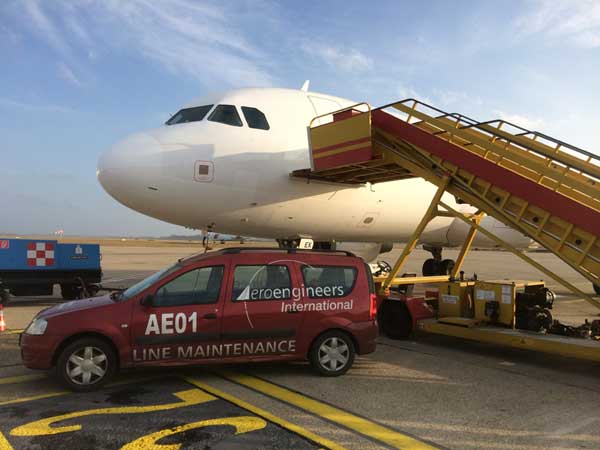 Aeroengineers International s.r.o. (AEI) offers line maintenance for the aircraft of the type Airbus A320ceo, A320neo, Boeing B737-300/400/500 (CL), Boeing 737 Next Generation (NG), Boeing 737MAX, Fokker 70/100 and Embraer ERJ-170/190 Series.
Troubleshooting support 24/7 is included within the service.
Engine run-up and borescope inspection capacity is part of line maintenance services.
We are looking forward to working with you!
Please do not hesitate to contact us if you have any queries.
Stations supported by AEI 1:
Station Code
Airport
Country
AEI Part-145/BDA AMO approval
A/C type
BTS
Letisko M.R.Stefanika - Airport Bratislava a.s.
Slovak Republic
YES 2
Airbus A320ceo/neo
Boeing B737CL/NG/MAX
Fokker 70/100
Embraer ERJ-170/190
EVN
"Zvartnots" International Airport, Yerevan
Armenia
YES 2


The only one EASA Part-145 approved organization at the location

Airbus A320ceo/neo
Boeing B737CL/NG

KIV
Chisinau International Airport
Moldova
YES 2, 4


The only one EASA Part-145 approved organization at the location

Airbus A320ceo/neo
Boeing B737CL/NG

KSC
Kosice International Airport
Slovak Republic
YES 2
Airbus A320ceo
Boeing B737NG

OTP
Bucharest Otopeni Airport
Romania
NO 2
Airbus A320ceo/neo 3
Boeing B737CL/NG

1 Beyond station operations, AEI is flexible to deploy certifying staff and provide AOG service at station preferred by customer. Please contact AEI Production Planning Center 24/7
2 See portfolio of line maintenance services provided by AEI
3 IAE PW1100G engine only
4 UAE GDAA approval for Airbus A321 (PW1100G-JM Series)

AEI line maintenance services:
| Station Code | Line maintenance, A-checks included | Consumable & Expendable material supplying | Engine run-up | Borescope inspection | Production Planning Management 1 |
| --- | --- | --- | --- | --- | --- |
| BTS | YES | YES | YES | YES | YES |
| EVN | YES | YES | NO | NO | YES |
| KIV | YES | YES | YES | YES | YES |
| KSC | YES | YES | YES | YES | YES |
| OTP | YES | YES | YES | YES | YES |
1 AEI Production Planning Center (AEI PPC 24/7) - customer focal point