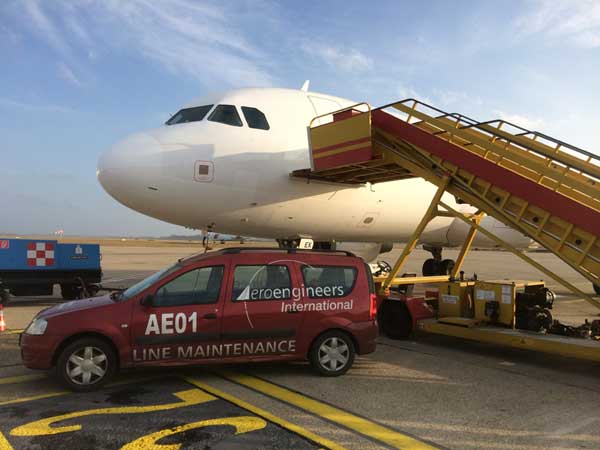 Aeroengineers International s.r.o. (AEI) offers line maintenance mainly for the aircraft of the type Airbus A318/A319/A320/A321 and Boeing B737-300/400/500/600/700/800/900 in its basic program to the extend of A-checks.
Troubleshooting support 24/7 is included within the service.
Engine run-up and borescope inspection capacity is part of line maintenance services.
Nevertheless, we are also able to secure routine night stop assistance which is limited to handling activity for other aircraft type as Bombardier CRJ700/900 and Embraer E-190/195.
Stations supported by AEI:
Station Code
Airport
Country
AEI Part-145/BDA AMO approval
A/C type
BTS
Letisko M.R.Stefanika - Airport Bratislava a.s.
Slovak Republic
YES 2
A320F
B737/300-900

CRA
Airport Craiova
Romania
YES 2
A320F

EVN
"Zvartnots" International Airport, Yerevan
Armenia
YES 2
A320F
B737/300-900

IAS
Iasi International Airport
Romania
YES 2
A320F

KIV
Chisinau International Airport
Moldova
YES 2
A320F
B737/300-900

KSC
Kosice International Airport
Slovak Republic
YES 2
A320F
B737/300-900

SBZ
Sibiu International Airport
Romania
YES 2
A320F

TSR
Timisoara Traian Vuia International Airport
Romania
YES 2
A320F

CLJ
Cluj-Napoca International Airport
Romania
NO 2
A320F

OTP
Bucharest Otopeni Airport
Romania
NO 2
A320F
1 Beyond station operations, AEI is flexible to deploy certifying staff and provide AOG service at station preferred by customer. Please contact AEI Production Planning Center 24/7
2 See portfolio of line maintenance services provided by AEI

AEI line maintenance services:
| Station Code | Line maintenance, A-checks included | Consumable & Expendable material supplying | Engine run-up | Borescope inspection | Production Planning Management 1 |
| --- | --- | --- | --- | --- | --- |
| BTS | YES | YES | YES 3 | YES 3 | YES |
| CRA | YES | YES | YES 4 | NO | YES |
| IAS | YES | YES | YES 4 | NO | YES |
| EVN | YES | YES | NO | NO | YES |
| KIV | YES | YES | YES 3 | YES 3 | YES |
| KSC | YES | YES | YES 4 | NO | YES |
| SBZ | YES | YES | YES 4 | NO | YES |
| TSR | YES | YES | YES 4 | NO | YES |
| CLJ | NO | YES | NO | NO | YES |
| OTP | NO | YES | NO | NO | YES |
1 AEI Production Planning Center (AEI PPC 24/7) - customer focal point
2 Beyond station operations, AEI is flexible to deploy certifying staff and provide AOG service at station preferred by customer. Please contact AEI PPC 24/7
3 Type of supported engine: CFM 56 series / IAE V2500
4 Type of supported engine: IAE V2500